Advil offers a premium range of products for people who want to relieve pain quickly. Advil's fast pain relief products come in rapid acting tablets and liquid capsules, and are packed in blisters. Learn more about Advil's fast pain relief products in this section.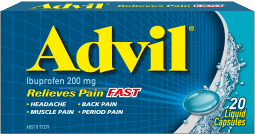 Don't let pain stop your day. Get fast and effective pain relief when you need it most with fast-acting Advil Liquid Capsules.
Advil Rapid Release provides rapid pain relief when on the go. Be ready with fast pain relief wherever, whenever you may need it.